_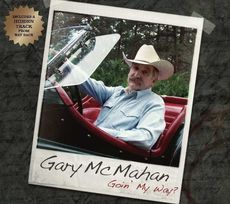 NEW ALBUM - GOIN' MY WAY?
GOIN' MY WAY? is Gary's first studio album since 1992. It's packin' seven new songs, a yodeling meltdown, and three poems. This is original, true storytelling about the new and the old West. It'll take you from 500 years of cowhuntin' in the Florida swamps to a cowboy's take on Ralph Lauren. It's a little unpredictable, and it might surprise you now and again. You may laugh out loud and shed some tears before it's over. Gary hand-picked some great friends/musicians to play on it, and they all added their own bit of magic. It's got all the fun, feelings, real stories, music, lyrics, licks, yodelin', and harmonizin' that could be tamped into it. Plus, just for fun, Gary included a Bob Frank song cut 35 years ago in Nashville to give you a musical snapshot of him way back when. Includes:
Uncle Fred, Ghost Ranch, Yodel Poem, Okeechobee Joe, Chaps, Big Enough and the Cheyenne Mare, Goodbye, Waitin' for Spring, The Horse Trade, Blue for You, and Leave My Jack Daniels Alone
_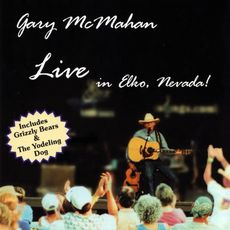 GARY MCMAHAN - LIVE IN ELKO, NEVADA
Time and again after Gary's shows, folks ask him, "Do you have an album like your show tonight?" The answer is yes. He recently found a bunch of recordings of shows he has done over the years in Elko, Nevada, at the National Cowboy Poetry Gathering. He picked some dandies and put 'em on this album. If you enjoy his shows, he's certain you will enjoy this album. Songs and poems include some of Gary's most frequently requested songs and some never-before-recorded selections:
Yodelin' Man, Big Enough to Do the Job, My Husband and I, Gettin' in Nature's Way, Pete 'n' Pat, The Bullrider, Cutie Pie (the yodelin' dog!), The Ol' Double Diamond, Grandpa's Early Mornin's, Grizzly Bears, and The Yodel Poem
_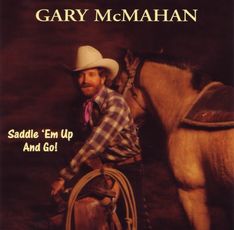 SADDLE 'EM UP AND GO!
SADDLE 'EM UP AND GO! is perhaps Gary's most popular album and features special guests Jerry Douglas, Sam Bush, Joey Miskulin, and Riders in the Sky. This album is a result of ten years of cowboyin' and writing and contains many of Gary's most popular songs and some "barn burning" yodeling. This is classic Gary McMahan. Includes:
Socco's Saturday Night, Cowboy Honeymoon, Montana Rodeo, The Ol' Double Diamond, Pete 'n' Pat, That's How the Yodel Was Born, Beer Can Bob, Skeeter, Angel, Yodelin' Man From Ol' Montan, and Horses and Cattle